To shut down Cortana in Windows 10 Pro simply type gpedit.msc in the search box to open the Group Policy Editor. Navigate to Local Computer Policy > Computer Configuration > Administrative Templates > Windows Components > Search. Double-click the policy named Allow Cortana.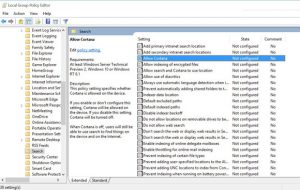 When the policy window appears just click Disable. You're done!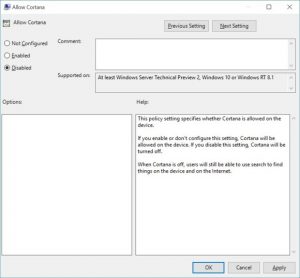 Here's where you disable her; feels a bit like killing the Terminator.
If you're using Windows 10 Home, you'll need to edit the registry. Do not tackle this step unless you have experience editing the registry. Additionally, you should set a restore point now in case things go sideways. To do that just follow these tips.
It bears repeating: This is dangerous. That said, here's what you do. Type Regedit into the search box in Windows, and open the Registry Editor. Navigate to HKEY_LOCAL_MACHINE\SOFTWARE\Policies\Microsoft\Windows\Windows Search.
Here's where it gets tricky: That final key (Windows Search) might not be present, as it wasn't on my machine. In that case you'll need to right-click the Windows directory and select New > Key. Name it Windows Search.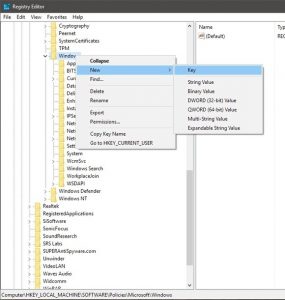 The key Windows Search wasn't present on our machine, so we had to create it (we did this after for this screenshot).
Now select that new key. In the righthand pane, right-click and select new DWORD and name it AllowCortana. Then right-click that value and make sure it's set to 0.
allowcortana
Once you've created this DWORD value just set it to "0," which translates to "off."
Sign out, sign back in and you should notice that Cortana has been replaced with a generic search box—woohoo!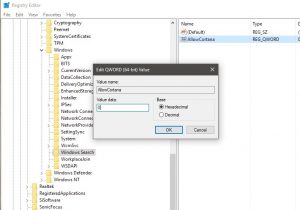 One final note: After all this is done, it's possible that you'll look in the Task Manager and find Cortana still sitting there, mocking you. Travis told me he was able to kill the process. When I tried it myself it was not only difficult, but once I did I wasn't able to search at all on my PC, for anything. Clearly Cortana is a tough cookie. She only consumes 39MB, so consider whether she's more trouble to kill than she's worth.